ANTI-DEPRESSION

BY FUCHEN KUANG
2019
Chinese students in the United States are a huge group. According to research by Yale University, more than 40% of Chinese students studying in the United States suffer from depression, and 25% of Chinese students have anxiety problems.
However, in the face of depression and anxiety, most of them choose silence and forbearance. They are ashamed to face the problem of depression, the stress of living and learning, unfamiliar environments and language barriers that exacerbate their depression and anxiety. Sadly, most of them have not chosen to face it positively but have been pessimistic in choosing the extreme way to solve the problem. The reason I found that in addition to students themselves have misconceptions about depression, do not know how to face, the surrounding family and friends are also biased and misunderstood about depression. They think it is moaning; it is fragile.
I hope that through my design, more students and family can try to understand depression and help those who are depressed to get out of depression as soon as possible to give them support. Depression is not fragile. Depression is a disease like a cold disease, as long as the right treatment can heal.
在美国的中国学生是一个庞大的群体。根据耶鲁大学的研究,在美国学习的中国学生中,有40%以上患有抑郁症,而有25%的中国学生患有焦虑症。
然而,面对沮丧和焦虑,他们大多数人选择沉默和忍耐。他们为面对抑郁症,生活和学习的压力,不熟悉的环境以及加剧他们的抑郁和焦虑的语言障碍而感到羞耻。令人遗憾的是,他们中的大多数人都没有选择正面地面对它,而是选择极端方式解决问题。我发现,除了学生自己对抑郁症有误解,不知道该如何面对外,周围的家人和朋友也对抑郁症有偏见和误解。他们认为这是在抱怨。
我希望通过我的设计,更多的学生和家庭可以尝试去了解抑郁症,并帮助那些抑郁症的人尽快摆脱抑郁症,为他们提供支持。抑郁并不脆弱。只要用正确的治疗方法是能够治愈的,抑郁症就是像感冒病一样的疾病。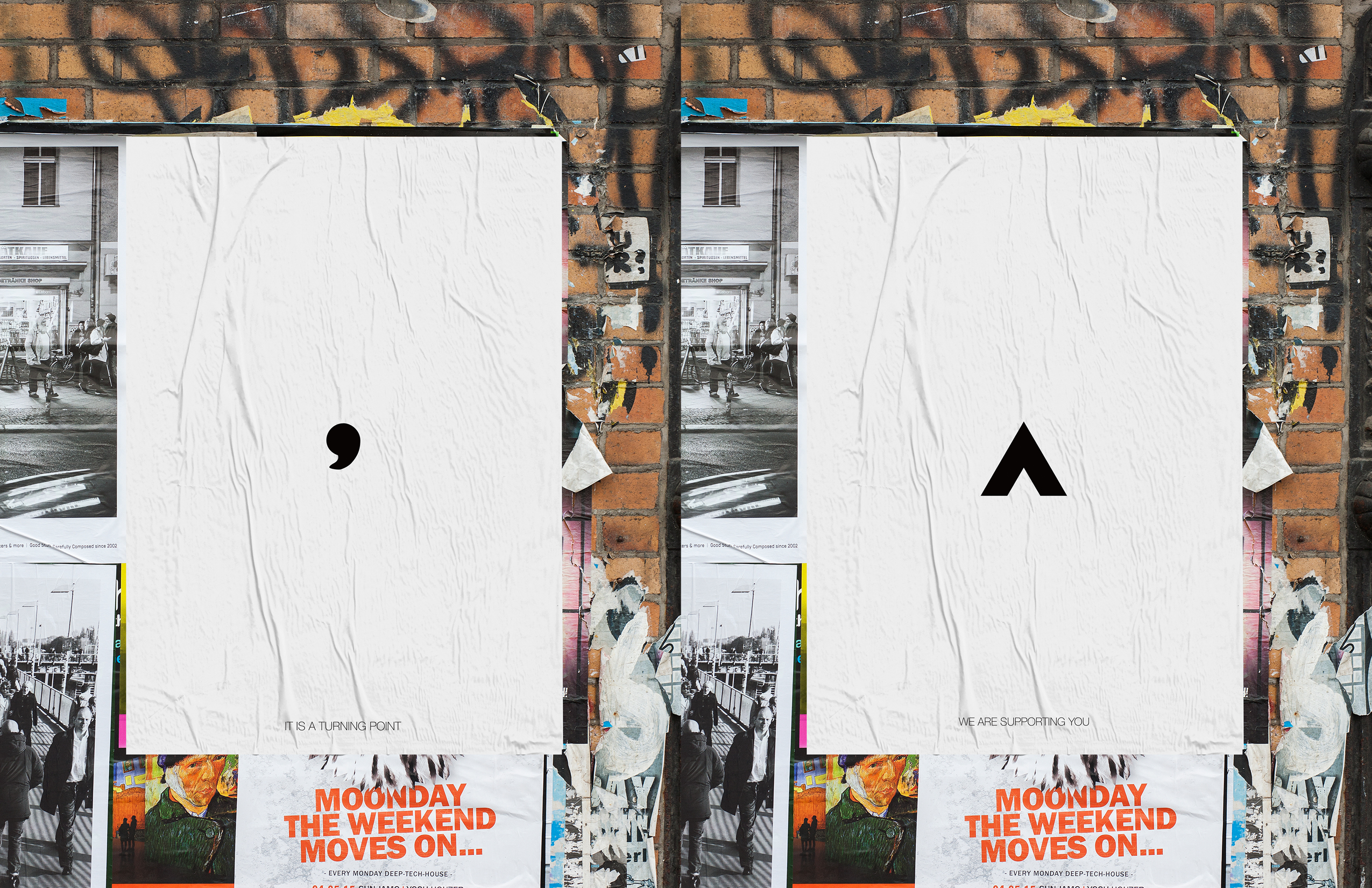 Pamphlet and Instruction Poster Temporary Tatto



My whole visual identity system included poster and flag two parts. The reason I designed the flag because some college mental health centre is off campus. If the flag can be a signal for the depressed student to guide them to find out a friendly organization I think that is a kind of comfort. Moreover, the poster I designed a signing step because the flag needs to hang up on a high place it is hard to touch or communicate and my audience, not just depressed students but also everyone in our society. I hope they can spend time to understand depression, read the instruction and sign up on the poster to show them support. The flag and poster need to collaborate work to achieve my goal.